How do domain appraisal services work and is it worth using them when selling a domain?
Have you ever wondered how much your internet domain might be worth? Perhaps while looking for an answer to this question, you have come across services that offer help and appraise domains? Or maybe you just found out about their existence now?
In this article, we touched upon issues related to domain appraisal and explained what factors affect the determination of the value of a given website. We answer the question of whether it is worth basing your decision on the presented valuation. We conducted comparative tests based on 4 popular appraisal services and described an example domain sale that was finalized thanks to one of them.
Thanks to the article, you will find out whether it is worth using appraisal services when selling an internet domain.
What are domain appraisal services?
Domain appraisal platforms are machine learning platforms that provide a valuation based on internal and external attributes, such as domain length, popularity, and age. They constantly follow market trends and are able to estimate the market value of a specific address based on the sales value of similar names of a given type. Examples of popular appraisal services:
What factors determine the valuation of a domain?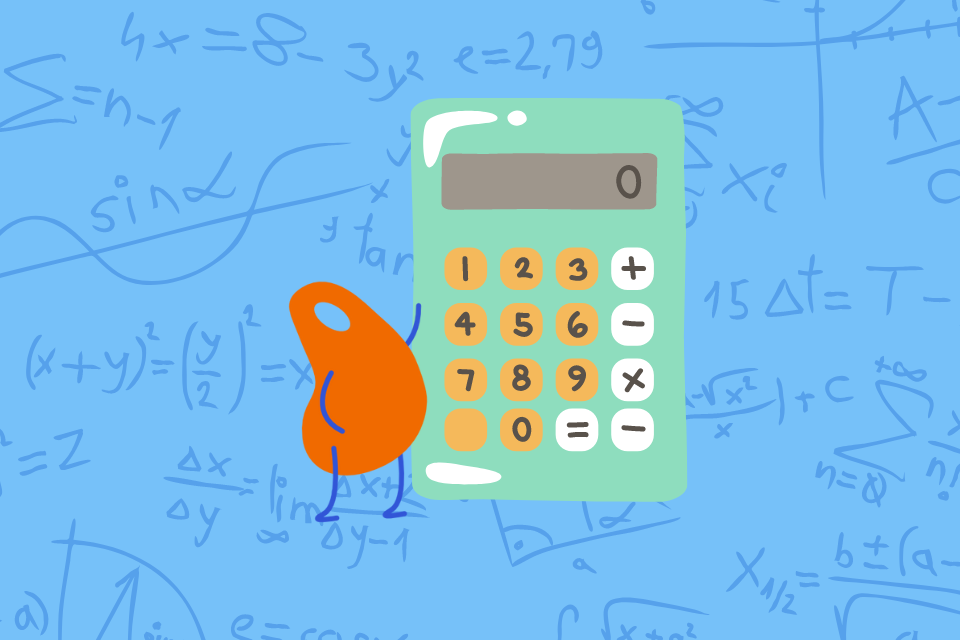 Appraisal services estimate the value of domains based on data from the global market. They collect sales data with various extensions and keywords related to the domain name. Thanks to this, they are able to determine their approximate market value.
Price appraisal services will work well for domains with English keywords because they have the most data about them.
It is worth noting that information on the sale of domains on the secondary market is not public to the market and it is rarely disclosed. In the case of the global domain market (especially .com domains), the information is often available publicly, so it can be used for comparisons.
Due to the above two factors, machines may incorrectly estimate the value of Polish domains and less popular extensions.
Price appraisal services take into account different factors, which means that the valuations mostly differ from each other across platforms.
In the case of the estibot.com appraisal platform, the methodology for calculating the value of a domain name is based on a number of internal and external domain attributes. Internal attributes include domain length, extension, word count, pronunciation, age, and other characteristics directly related to a specific domain. External attributes relate to third-party data, like domain search frequency, search position, and history.
The characteristics of the specific domain name are then compared with those of the previously sold domain names. The valuation is based on this comparison.
For speedtest.pl, the key factors taken into account when valuing a domain are:
Income generated by the company. According to common opinion, the money invested in business should pay back after 5-10 years. By multiplying the annual net profit by the given annual range, you should get the amount for which the business can be sold. For an online business, the period is 2 to 6 years.

Number of unique users. It is estimated that in Poland, one unique user per month is worth from 1 to 15 PLN. According to the Business 2.0 magazine, a foreign user can be worth up to around 34 USD. The value depends on the user profile and, among others, on how eager they are to buy.

Substantive content, articles, photos, scripts. In this case, the uniqueness of the materials and whether they are attractive to the visitor play a key role. Meaning: do they spend a lot of time on the website or do the materials contribute to the purchase decision?

Website theme. What your site focuses on can affect how much people want to buy it.

Domain name. One of the key aspects affecting the purchase. The factors that help achieve a greater value for the domain: short and simple name, a proper extension, and being easy to remember.

Traffic diversification. It is important for the value of the domain that the traffic to the website comes from several different channels, e.g. search engines, entries from other websites or direct visits.

Branding, domain brand, recognition on the web. The popularity of the website contributes to easier and greater sales.
Appraisal services take Domain Authority into account. This is a popular metric in the SEO industry, comparable to the outdated PageRank. The indicator estimates how a given website will perform on the search results page and gives an approximation of its competitiveness. The Domain Authority score is presented on a scale from 1 to 100, and the higher the score, the better.
Domain Authority is calculated using a wider range of data than PageRank. Some of these metrics include the number and quality of inbound and outbound links, their variety, domain age, site traffic, and even hardware and software metrics such as server response times, broken links, code errors, and uptime.
In addition to Domain Authority, there are similar indicators such as Page Authority, MozRank, Majestic Trust Flow, or Majestic Citation Flow, which are also able to affect the valuation of the domain.
The appraisal services can take into account rankings from reputable websites: Alexa Rank, SemRush, or Ahrefs.
Is it worth using an appraisal service when selling a domain?
Looking for an answer to this question, we decided to do a comparative test and searched for our domain (domeny.tv) on 4 popular appraisal platforms.
Valuation by estibot.com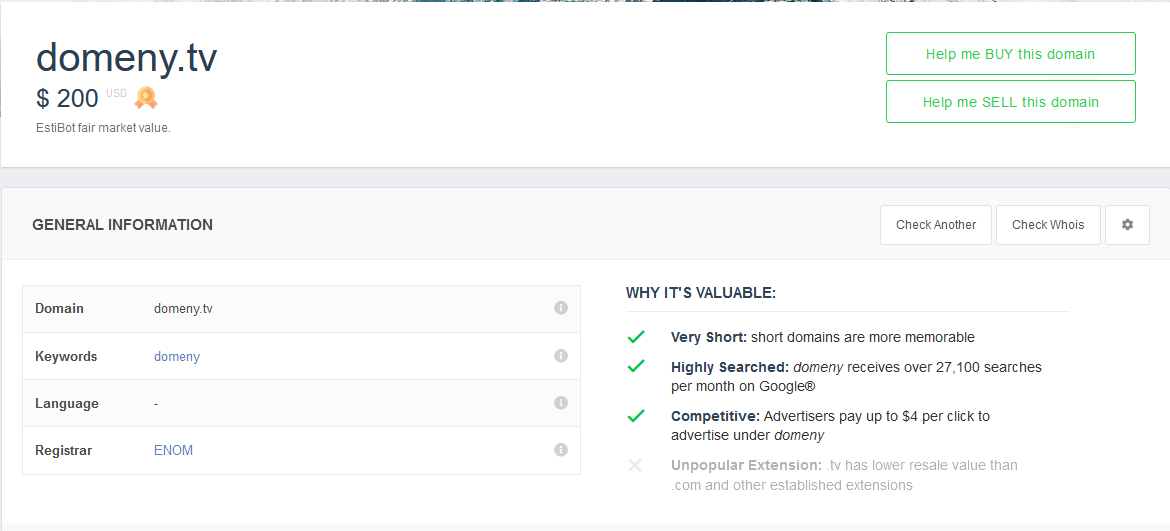 Source: https://www.estibot.com
To our surprise, we saw a dizzying 200 USD valuation, with 27,100 exact searches for "domeny.tv" (Polish equivalent of domains.tv) declared. About half of the analytics results, such as Google or Alexa traffic ranking, are left blank, despite the fact that this data is publicly available.
Valuation by godaddy.com

Source: https://pl.godaddy.com/domain-value-appraisal
According to GoDaddy, domeny.tv is worth a bit more – 1782 USD. The website practically does not provide the details related to the appraisal of the domain. The only useful factor in determining the value of a domain is that the short name is less than 15 characters long.
Valuation by speedtest.pl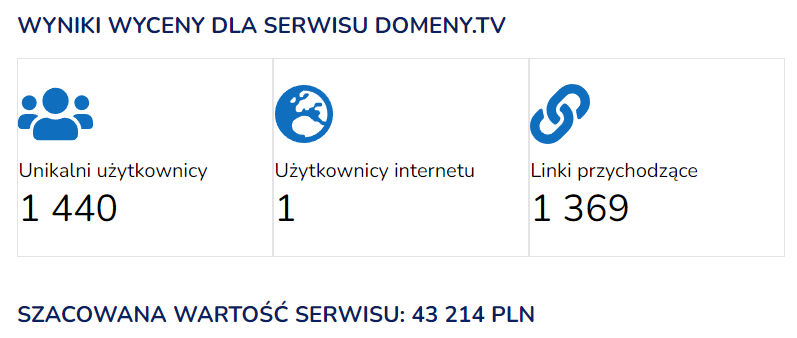 Source: https://www.speedtest.pl/wycena
The speedtest.pl portal estimated the value of the domain at 43,214 PLN. The statistics it provided during the appraisal are the number of unique users: 1,440. Internet users: 1. (we do not know exactly what this figure indicates) and external links referring to the domain: 1,369.
Valuation by webarbiter.com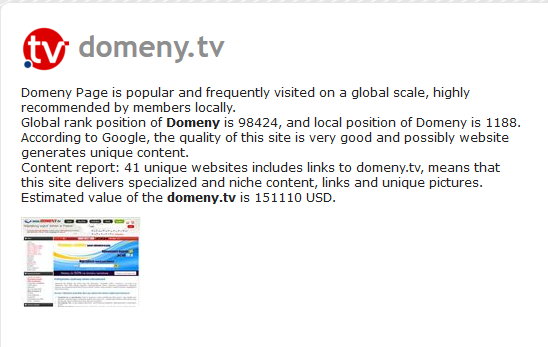 Source: https://www.webarbiter.com/en/domeny.tv
At the very end, we experienced a breakthrough – webArbiter valued domeny.tv at 151,110 PLN. At the same time, it provided a justification as to why it picked such price and disclosed some publicly available statistics that were not available on estibot.com. In addition, we read very positive feedback about ourselves and found out that our site is worth 43 camels or 116,236 bottles of beer. If you just thought you would like to make an offer but you are wondering where to get so much beer, don't worry. 13,140 bottles will also be an interesting proposition.

Source: https://www.webarbiter.com/en/domeny.tv
As you can see, the valuations formulated by appraisal services are very divergent and vague – in the case of domeny.tv, they ranged from 310 to 151,000 dollars. Most of them do not provide comprehensive reports and arguments for the price, and some publicly available statistics are not included in them. Valuations should not be a real benchmark for investors, but in some cases, they can be useful as a way to support sales.
A good example of this is the case of Cole South – a professional American poker player. In mid-2021, he purchased a domain for 125,000 USD, the name of which has not been revealed. As he pointed out, it was like the name "animated.com", meaning simple and potentially attractive. On March 30th, 2021, he sold it using the estibot.com valuer for 341,000 USD – at a profit of 2.73 times. Was it a good offer and purchase decision? On April 24th, 2022, Cole stated that the price was satisfactory for those years, especially since he was not very aware of how much he could actually get for the domain. At the same time, he stated that he could sell it for much more, and the decision to sell was a bit hasty.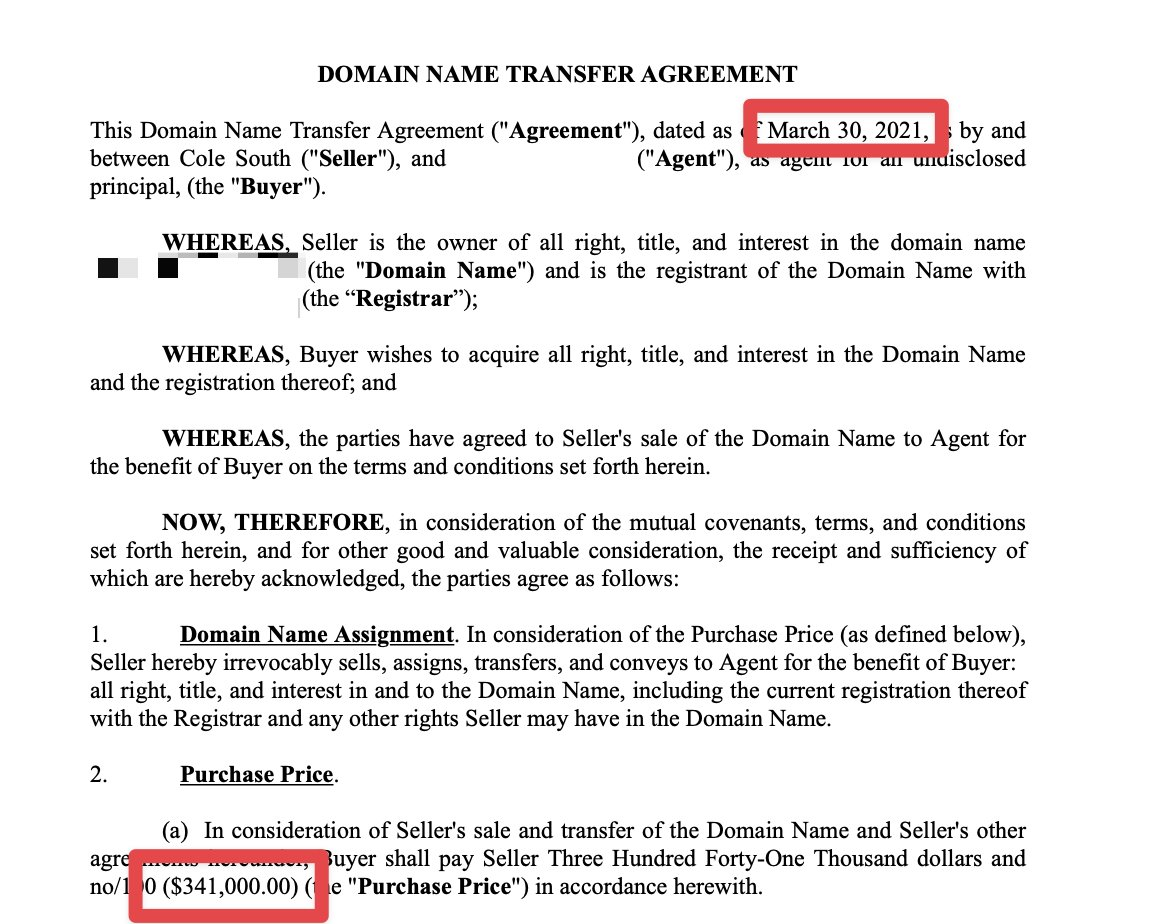 Domain sale agreement finalized thanks to estibot.com, Source: https://twitter.com/ColeSouth/status/1518085067725107201
How to put an internet domain up for sale?
If you have already learned the 10 tips for domain valuation and you know that appraisal services are a good tool supporting domain sales, it is worth knowing more popular places that will help you trade.
The first one is domain parking, i.e. the possibility of placing information on the server along with a short, freely defined message, for example regarding the desire to sell the domain and a contact form. The form will appear when someone visits your domain. This is a completely free option on our platform.
Next are groups and marketplaces in social media. It is enough to find, for example, groups related to your industry or to internet and e-commerce domains.
A common method is also listing the domain on the secondary market, i.e. the domain exchange. It is a public place for buying and selling them, but usually involves fees.
Summary — is it worth using domain appraisal services when selling them?
As you have probably noticed, appraisal platforms should determine the domain valuation. Usually you will see different amounts depending on which valuation platform you use. In addition, machine learning takes into account various factors, often difficult to verify by people who wish to get a quote. Calculations of price estimates should be treated very indicatively and with a pinch of salt. However, in some cases they can be useful as sales support.
From the investor's point of view, valuations may prove to be helpful as an argument and a point of reference in possible negotiations.
Have you ever used this tool? What do you think about the quotation you received?