How to register a domain name in a simple way?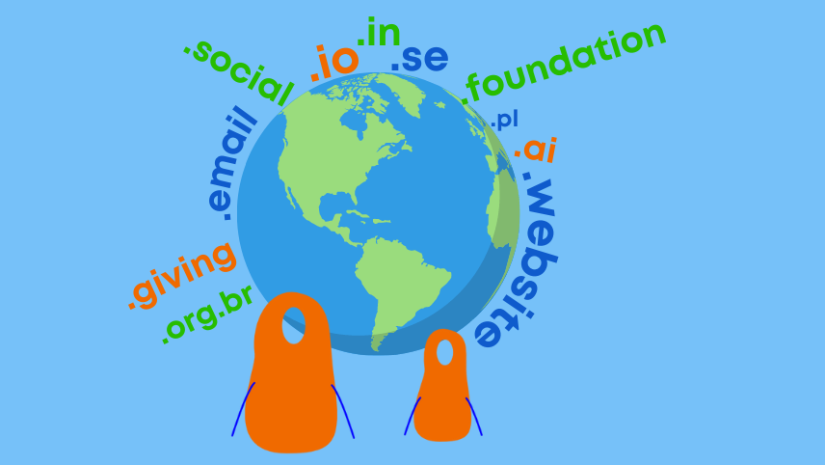 Are you facing the choice of a web domain and registering your chosen name? Wondering about choosing the best extension for your website? In this article, you will find a complete guide to registering internet domains.
We will answer questions regarding domain registration, the domain registrar, the purchase of a domain, and how long does it takes to register a domain.
What do you need to know before registering a domain
Before you register your domain, it is a good idea to familiarise yourself with some of the common terms you will encounter when maintaining your domain.
If you are interested in registering a domain, in the next paragraph you can find domain registration step-by-step instructions.
Let's go back to explaining the basic terms you will encounter in Let's Domains:
Domain name – A domain name is easier to remember. It consists of two parts: the extension (domain) and the chosen name. Each domain is assigned an IP address so that we do not have to type a string of numbers in the browser. Together with the www prefix, e.g., www.letsdomains.com, domains form an easy-to-remember address.
Expired domain - Domains are usually registered for an annual subscription, or in some cases for two years. When the subscription ends, the registrant usually makes a payment to renew the domain. If there is no payment and the subscription period expires, the domain is considered expired. Depending on the domain registry, the expiry period can last from 30 to even 60 days. How do I activate an expired domain? An expired domain can usually be renewed by paying a subscription and an additional reactivation fee. Please check with your administration panel or customer service.
Domain registration - How to buy and register a domain name? We answer this question in the paragraph: Domain registration step by step. How long does it take to register a domain? At LetsDomains.com, registration only takes a few seconds. Check out the instructions below and see how to register a domain for your website. Domain registration in various countries is done online or takes a few days.
Domain purchase - How to buy a domain name? The purchase of a domain involves indicating the necessary data needed to register it and paying the subscription for the first year. We have described the process of domain purchase step by step in this article. Instructions can be found below.
Domain registrar - A domain registrar is an entity that registers internet domains. Let's Domains is such a domain registrar. In our portfolio, we have over 1,000 extensions available for registration. In our portfolio, you will find national domains from all parts of the world as well as new domains.
Domain registry - A domain registry is an entity that manages a particular extension, e.g. DENIC eG manages the .de domain name, IDNIC-PPAU Miktroelektronika manages the .id domain name, NIC-Mexico manages the .mx domain name. The domain registry is responsible for the management of a domain, determines the rules for its maintenance, or sets the base prices for its registration and renewal.
As you can see, you will encounter many different terms at the beginning, which may seem complicated to a beginner. We hope that the terms explained will make it easier for you to complete your domain registration.
Domain registration step by step
At LetsDomains.com, we have over 1,000 extensions to choose from. Among them, you are sure to find one that is suitable for your website. What is the best way to register a domain, step by step?
1. How to buy a domain name? If you have selected the name of your site, type it into the search engine. For the purposes of these guidelines, we have chosen the name domainnameexample.us. The domain is available for registration.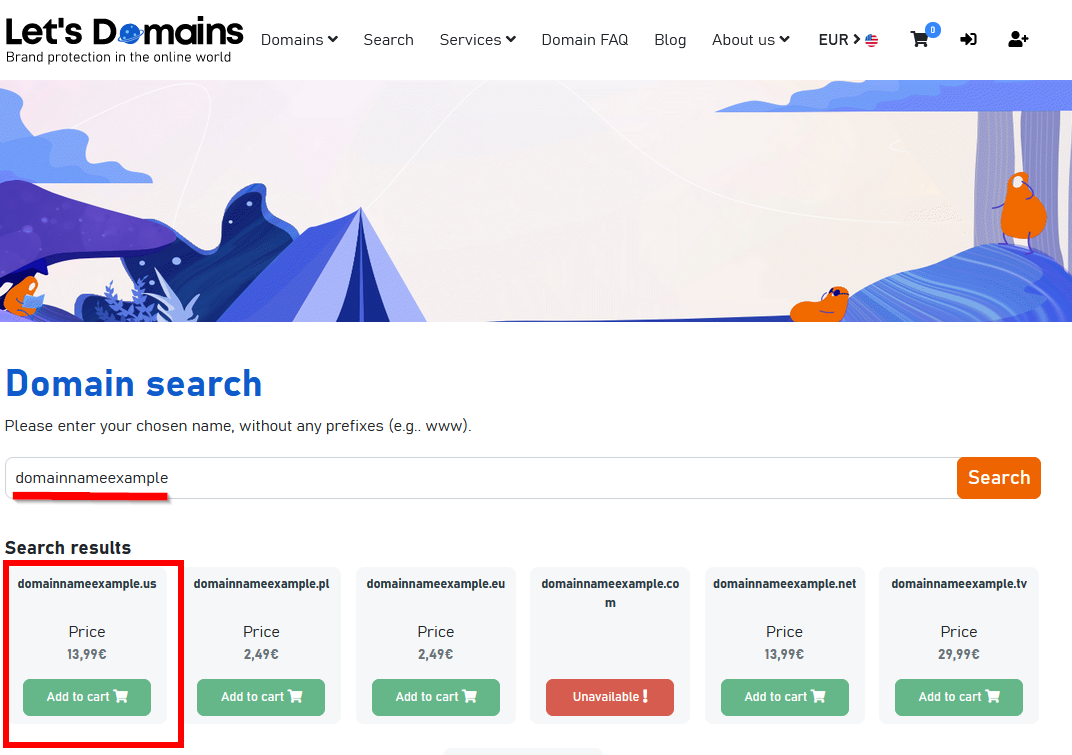 2. Click the "Add to cart" button and add the domain to your cart. This way, you can also add to your cart other domains you wish to register.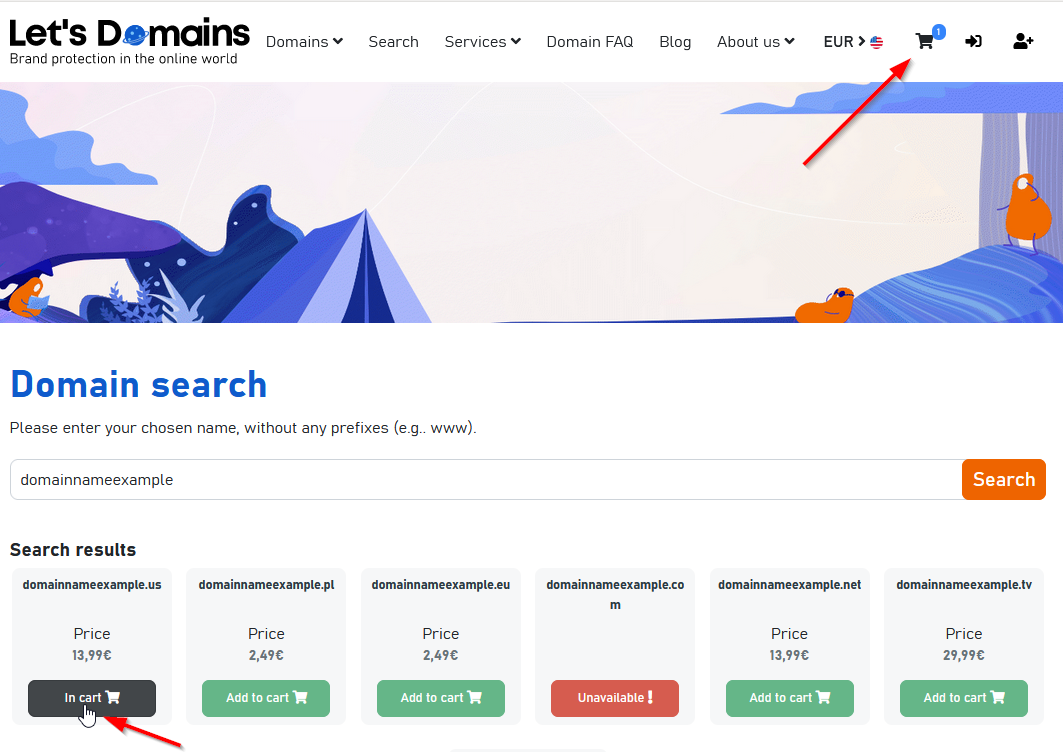 3. Proceed to the cart by clicking on the "Go to cart" button.

4. In the cart, in its first step, you will see a summary with the domains you have ordered.
5. In the next step, you will need to log in or create an account (if you do not have one).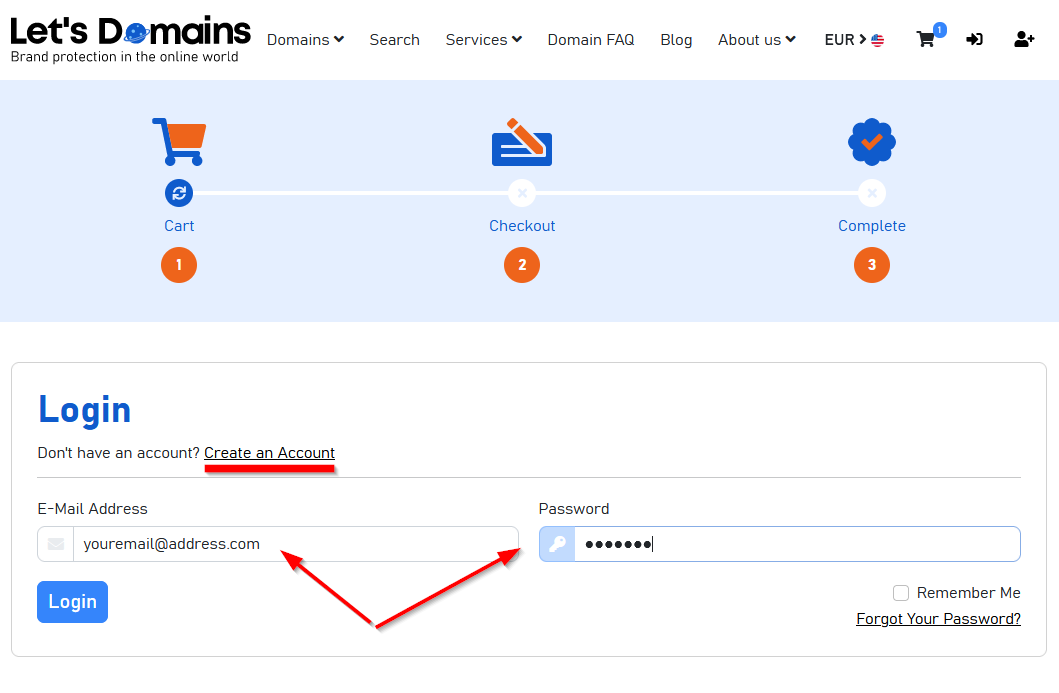 6. If you do not have an account, click on Create an Account.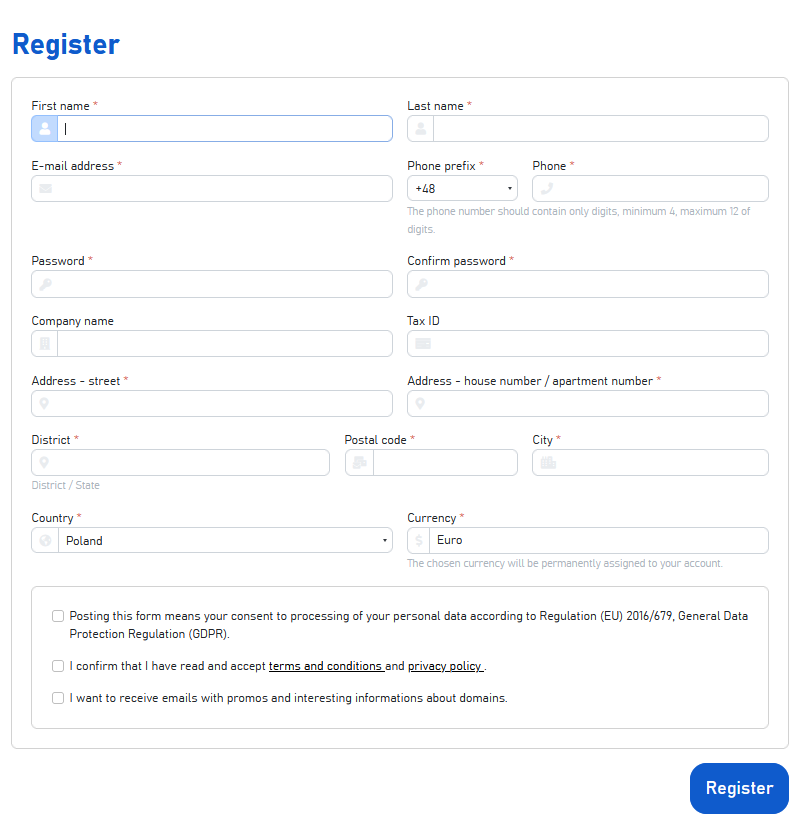 7. Once you have created or logged into your account, you will see a summary with the ordered domain and options to select: Registrant data, Payment method, Billing data (for invoicing), and DNS profile. If the data matches and you have selected the Payment method, click the "Order and pay" button.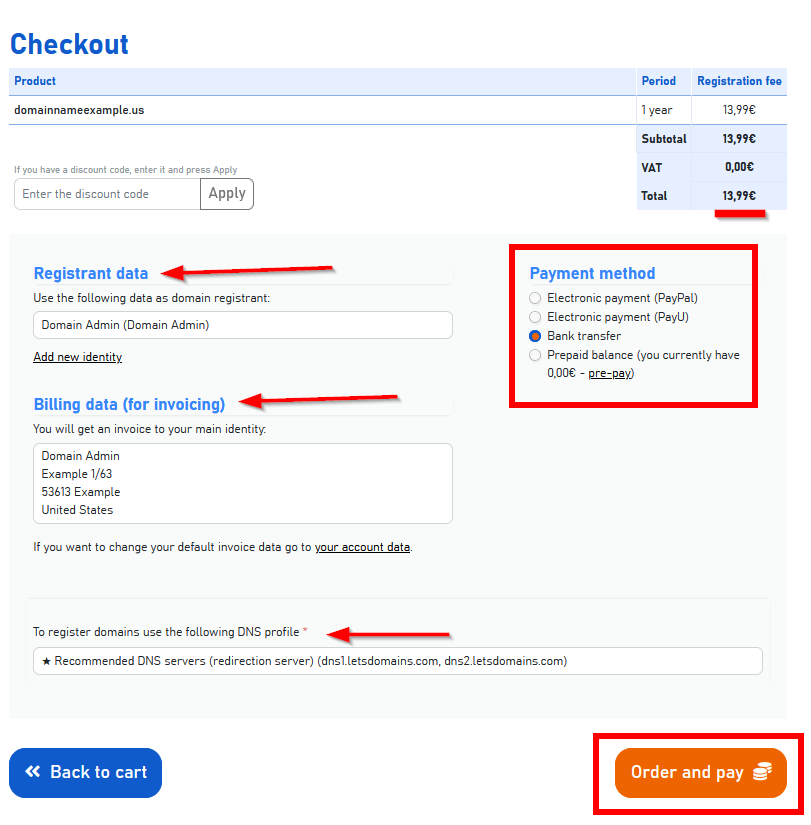 8. After clicking on the "Order and pay" button, you will be redirected to the online payment (when you choose Electronic payment (PayPal) or Electronic payment (PayU)) or you will see a summary of your order (when you choose Bank transfer). Please make the domain payment for your website as soon as possible. Unpaid domain registration does not reserve the domain. The domain remains available for registration by other users.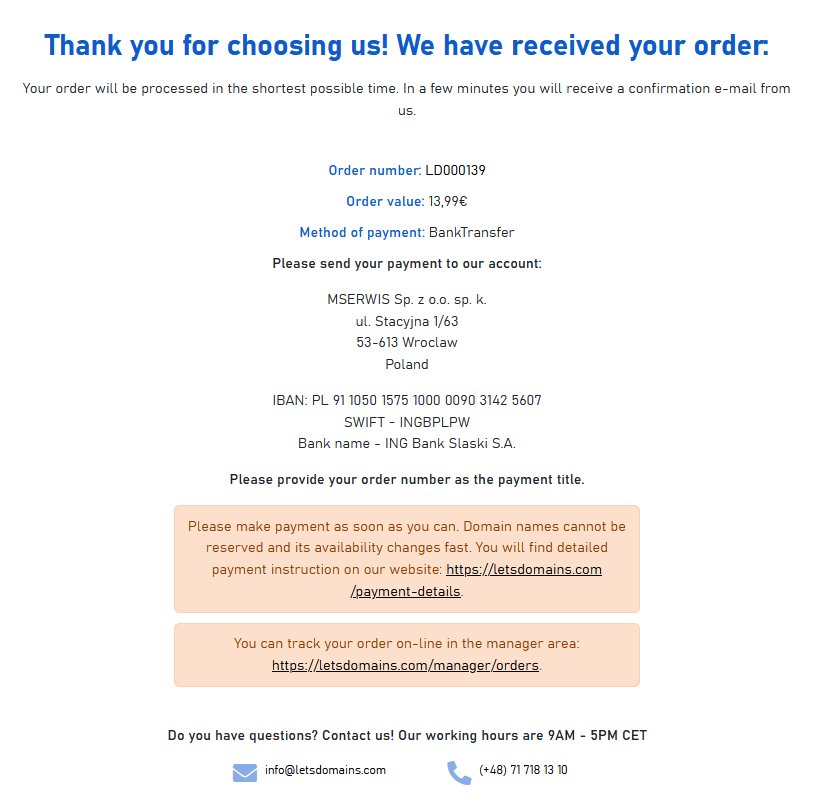 9. Should you have any questions about your order, you can contact us. We look forward to hearing from you at: info@letsdomains.com and phone: +48 71 718 13 10.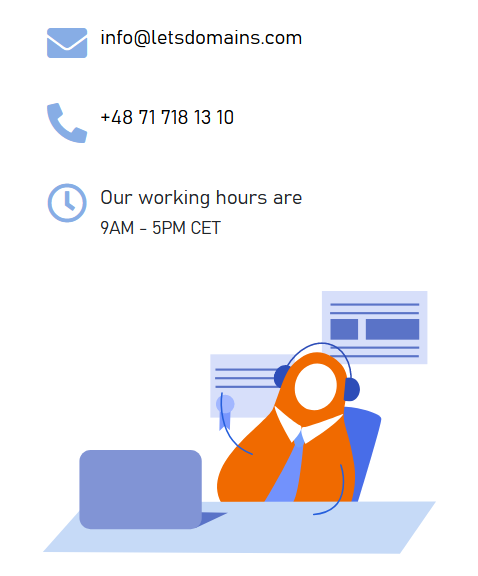 How long does it take to register a domain?
Once you have made a domain purchase, you are probably wondering how long does it take to register a domain? Domain registration is an individual matter and can be divided into several categories:
Domain registration online. Domain registration takes place online and within a few minutes at most, the domain is available for management in the administration panel. This applies, for example, to global domains (.com domain name, .net domain name, .org domain name, .biz domain name, .info domain name, .tv domain name), some national domains (e.g. .de domain name, .us domain name, .co domain name, .fr domain name, .jp domain name) and most new domains (e.g. .community domain name, .flowers domain name, .rent domain name).

Domains which require confirmation of registration by the subscriber. Only once the registration is confirmed (usually by clicking on a link sent to the subscriber's email address) is the domain active and appears in the administration panel. What kind of domains are these? E.g. in Denmark - .dk domain name, in Sweden - .se domain name, or in the Arab Emirates - .ae domain name.

Domains requiring a signed application. The registration process is based on the preparation and signing of the registration application. The registration application is prepared after the purchase of the domain. The process where a registration application is required is for example in Estonia - .ee domain name or in Bulgaria - .bg domain name.
So how long does it take to register a domain? Depending on the registry in question and its technological sophistication, domain registration is either online or takes up to a few weeks (in the case of .gr domain names).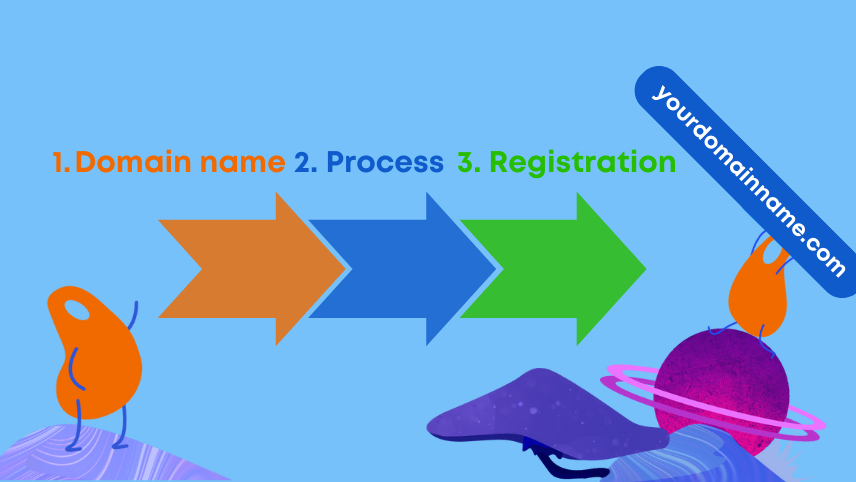 Domains for free?
How to buy a domain name for free? At Let's Domains you will find prices for both registration and renewal of domains. Therefore, is it possible to buy a domain name for free? It turns out that it is possible to register domains for free. Such a possibility is offered by Freenom.com, which directly on its website offers to register a .tk domain for free. Freenom.com also offers .ml domain name, .ga domain name, .cf domain name, and .gq domain name.

Registration of the domains in question is possible for free but is subject to the rules set out in the terms and conditions. So how do I register a domain for free? It is necessary to actively maintain the content on the domain and to subsequently renew it. These are domains that can be removed by the registry at any time. In this situation, we do not recommend registering them if you are planning long-term activities for your brand. Use the search engine and register the domain of your choice for yourself.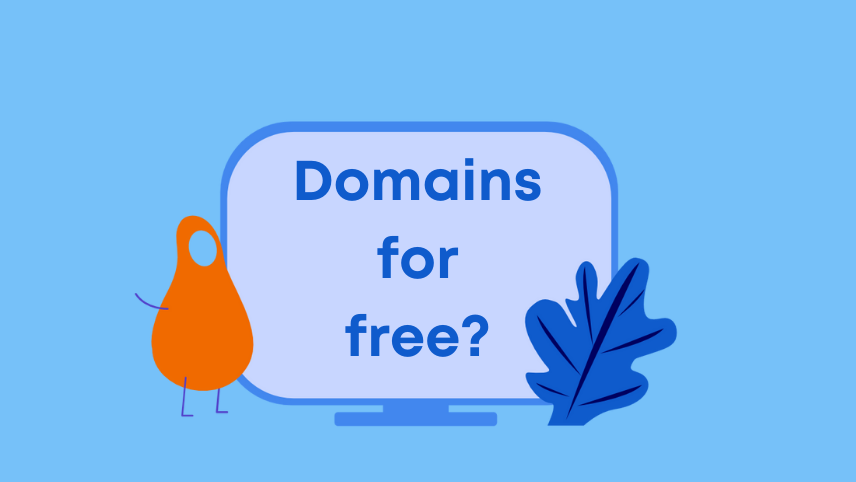 C

an a domain be registered forever or permanently?
That is one of the questions we are asked most frequently. Registering a domain forever and permanently is unfortunately not possible. Domains are registered for periods of one or two years. The maximum period (multiple subscribers) is 10 years. The exception is the .co domain (.co domain name), which has a maximum registration period of 5 years. As you can see, registering a domain forever and permanently is not possible.
It is not possible to register a domain forever and permanently, as domains are leased and assigned to subscribers only for the period for which they have been paid. Obviously, domains that are renewed on time can be held by one person permanently.
D

omain registration
So, as you can see, domain registration is simple - it requires you to have an idea and a few minutes of commitment. At Let's Domains, we have over 20 years of experience and domain registration has no secrets for us. We welcome you to register your domains and if you have any questions - please contact us directly.
T